CTF Founded 1959
Celebrating 57 years of Traditional Taekwon-Do
INTERNATIONAL 
CHIN MU KWAN 
TAEKWON-DO 
FEDERATION
Chin Mu Kwan Taekwon-Do Federation (CTF) is dedicated to promoting traditional Taekwon-Do. CTF is a not for profit organization. CTF maintains the highest standards and certifications in Taekwon-Do.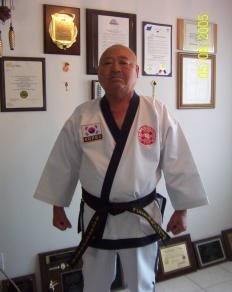 Grandmaster H.Y. Kang 9th degree black belt
Chin Mu Kwan literally means
"True Martial Art Home"
we teach the "Art of Taekwon-Do" with less emphasis on the sport aspect. Our goal is to develop a positive way of thinking while being strong, physically and mentally.

CTF Officials:
Founder and President:
Grandmaster Howard Y. Kang 9th Dan
Vice Presidents:
Executive Senior Master Stephen Davis 8th Dan
Executive Senior Master Fred DeStolfo 8th Dan
General Secretary:
Senior Master Cindy Davis 7th Dan
CTF Historian:
Senior Master Harry Plichta 8th Dan
Regional Directors:
South TX – Senior Master Bob Davis 8th Dan
Eastern PA – Senior Master Harry Plichta 8th Dan
Western PA – Senior Master Lenny Young 8th Dan
Central TX – Senior Master Raymundo Gonzalez 7th Dan & Master Dave Harvey 5th Dan
Advisers:
Adviser Texas – Senior Master Rianard Jackson 8th Dan
Tenets of Taekwon-do
(Taekwon-Do aims at achieving):
Etiquette
Modesty
Perseverance
Self-control
Indomitable Spirit.
Taekwon -Do Oath:
I shall observe the tenets of Taekwon – Do.
I shall respect the instructor and senior.
I shall never misuse the Taekwon – Do.
I shall be champion of freedom and justice.
I shall build a more peaceful world.